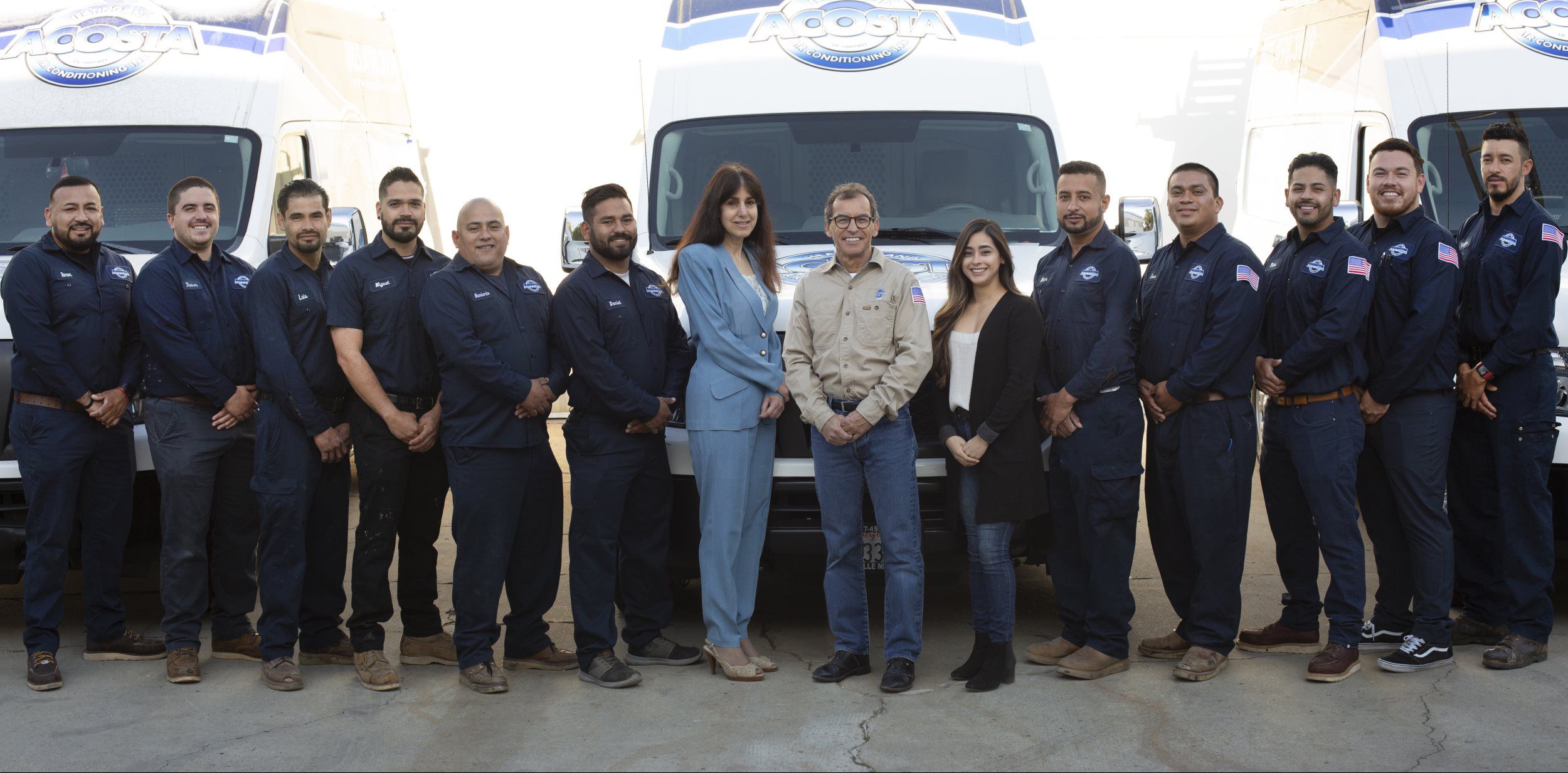 "I have known Jesse Acosta for over 20 years now. He installed my initial HVAC unit in my house, and then when I added on he installed an additional zoned unit to handle the new part of the house. Jesse is easy going, fair on his prices, and one of the nicest people you will ever meet. He also manages to hire employees that conduct themselves with total professionalism and are meticulous regarding every detail. Today, Trevor serviced my units, changed all the filters, and verified that everything was operating correctly. Trevor is a testament to this quality local company. Jesse Acosta is the only guy to use for your Heating and Air conditioning needs. If I could give Acosta Heating and Air Conditioning 10 stars, I would. " – Jeff E,  Thousand Oaks
"Our air conditioning, though working, truly did not cool our home. Acosta was recommended by a few neighbors, so we called and made an appointment. Trevor, a young and knowledgeable young man, came on time and found a couple of issues that he was able to fix within this one visit. Trevor was respectable about our home; he put covers on his shoes to not stain our rug, he gave our dog friendly pets and did quick work!!! Our home feels great with the air conditioner working properly!!! Thank you, Mr. Acosta and Trevor!!" – Amy B,  Simi Valley
"I am glad to know there's still honest businesses out there that will not try to take advantage of you to make a quick buck.  Their technician was very professional, wore footies before they came into our home, and put us ease that our system is good shape." – Mike K,  Moorpark
In my opinion, if you're looking for a honest hard working business, look no further Acosta Heating and Air Conditioning is the right choice.
"Have to take the time to review a company who has not only taken care of our ac/heating needs, but who have been such a pleasure to work with.  After receiving a couple of quotes for a ductless ac/heating unit, we chose Acosta for the job and haven't been disappointed. Jesse has even facetimed with me trying to troubleshoot a minor problem. Recently our ac in main house stopped cooling so I called Acosta on a Sunday and Jesse was able to stop by the next day. Took care of the problem and told me what to expect in the future if experiencing the same issues. 
So kind and trustworthy! Highly recommend this company!" – Sandra F, Thousand Oaks
"Ahhhmazing! Jesse was to the rescue in hours! Acosta Heating and Air Conditioning not only provides a prompt response; their customer service is amazing from the start, and it does not end once they leave. They follow up and check-in on job satisfaction. Not to mention, everyone you deal with from the phone to the technician/electrician who comes to the house has a pleasant and serving attitude. I HIGHLY recommend you try Acosta Heating and Air Conditioning for any of your heating and cooling needs. You'll get both excellent work and service!!" – Trisha F, Thousand Oaks
"I needed a complete new system to replace a 25 year old system that had asbestos in the ducts
Ramon was the senior technician that came out for a service call and checked everything Acosta even hired the remediation company to remove the asbestos ducts
The crew that came to my home worked so well together it was a pleasure to see and they were respectful of our home
The crew Ramon, Daniel, Umberto, and Luis all were top notch and did a perfect job
I will always recommend them!" – Tom A,  Westlake Village
"Quality Craftsmen. I got a few other quotes, but Acosta won me over by going the extra mile for me and my new AC system. Acosta's bid was in the middle of the price range, but the highest in value. The office staff is very nice and available to serve the customer through with appointments and payments. My AC is so cold, and we are very happy. Thanks!" – Charles C,  Camarillo
"The Acosta team are thorough and easy to work with. I have seen some reviews on here complaining about price. I am absolutely positive you could probably find somebody to say that they can do anything that Acosta for less money. And sure, somebody else will probably have a brand-new air-conditioning unit placed inside of your home. The one thing that you will not be able to get from anyone else is the quality.
Buying the system is only a very small portion of the installation process. The quality and attention to detail of the Acosta team is the best I have ever seen.[…] "  
–  Kyle C,  Thousand Oaks